Recently, I became inspired by a traditional Mexican game called "La Loteria".  Essentially, it is like bingo, but the cards themselves are what captivated me.  Each one has a special title and image that has become iconic to the game.  As I studied these cards, I started envisioning each traditional title, but with the unique twist of having a celebrity in sugar skull makeup instead of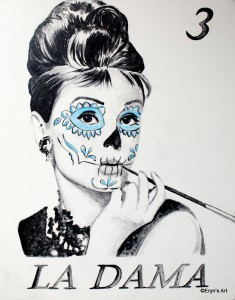 the original images.  However, I didn't want them to be random.  They had to have meaning.
"La Dama" means The Lady.  Of course, who better to represent this card than Audrey Hepburn, the lead actress of My Fair Lady.  For the purpose of the card, I chose her in a pose from Breakfast at Tiffany's and designed her sugar skull makeup to reflect her delicate nature and, of course, in Tiffany-esque blue .
"El Gallo" means The Rooster.  Who better to represent this card than the man who played Rooster Cogburn?  Nobody, that's who.  John Wayne is instantly recognizable and his portrayal of this character in True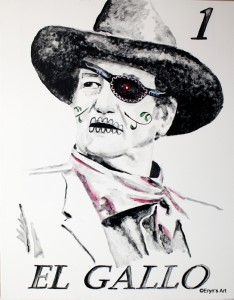 Grit is one of my favorites.  So choosing him for this card was instantaneous.  His sugar skull makeup is minimal.  Why?  Because He's John Wayne!  Manly men don't wear  makeup. And I respect this man. His eye patch is adorned with rooster feathers and red cockscomb colored jewels and he has minimal calavera accents.
"La Sirena" means The Siren.  Traditionally, this card is represented by a mermaid.  However, I decided that the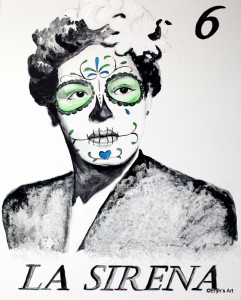 Siren of Song, Billie Holiday would be the best choice for this piece.  Often, when I paint, it is her voice that inspires me.  Her sugar skull makeup is markedly feminine with accents in blue to reflect her most famous genre. The heart near her mouth, signifies the source from which she sang.  A  tear drop pays tribute to her tragic, beautiful life.
"El Valiente" means The Valiant. Bruce Lee.  What more can I say?  To me, he represents everything that a brave hero should be.  Paying tribute to his iconic film, Enter the Dragon, I used his sugar skull makeup to incorporate the scratches he receives on his cheeks while fighting in one of the most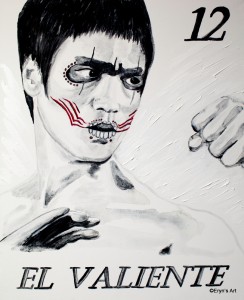 memorable scenes. I also gave a nod to his son, Brandon Lee, by using the inspiration of his eye makeup from The Crow as part of his father's sugar skull design. Again, he is a manly man…so makeup is kept to a minimum and appears more as warpaint for this classic fighter.
The original series is four paintings.  Symbolically, this is important because it takes four La Loteria cards in a row, horizontal, blocked, or on the corners of the card to win.
Because the original La Loteria set includes cards numbered 1-54 and an alternate set numbered 55-108, I have a broad vision for this completed series.
Prints of any originals will be available for purchase in various sizes.
Prices for original works will be coming soon.
Ultimately, I would love to keep the first four originals together as a set. Therefore, special pricing will be included for a set of 4.
Commissions are welcome if a client has a desire to see a specific celebrity represented as a La Loteria character.